Research news

Open Access
Stress, sex and evolution
Journal of Biology
2003
2:10
Open any textbook on evolutionary genetics and you are bound to find phrases such as 'stress reveals genetic variation'. The implication is that while many stresses have a slight effect on an 'average' organism, if the organism has a mutation then the stress can have greater impact. For bacteria this would be revealed in reduced growth. At the very least you would expect growth of mutated organisms to be inhibited by stress to the same extent as that stress inhibits the growth of the non-mutated progenitor strain.
Compare this with an engineering example and it makes obvious sense. A car drives faster down an urban road than across the stressful environment of rough terrain. If you 'mutate' the vehicle by removing a screw at random and it impedes the vehicle's ability to cope with the urban road, you would expect the effects of this 'mutation' to be similar, or exacerbated, when it is driven off-road. You would certainly not expect the deleterious effect to be reduced when driving off-road.
But according to results published in this issue of
Journal of Biology
[
1
],
Escherichia coli
appears not to have read the textbooks. Working in the Laboratory of Living Matter at Rockefeller University, New York, Roy Kishony and Stanislas Leibler have found that if some stresses are applied to previously mutated organisms, the effect of each stress is less pronounced than when it is applied to wild-type bacteria (see
'The bottom line'
box for a summary of their work). Kishony and Leibler emphasize that these are bacteria with random deleterious mutations, not rare mutants that manage to do better than their wild-type parents; their intention was to see the effect of the average mutation as opposed to studying specific rare ones. The conclusion from this study is that if you were to pick a mutation at random, the chances are that some of its lost performance would be restored under particular stresses. This really is surprising. It is saying that if you take a damaged biological system and push it close to the extreme, somehow the damage becomes less deleterious.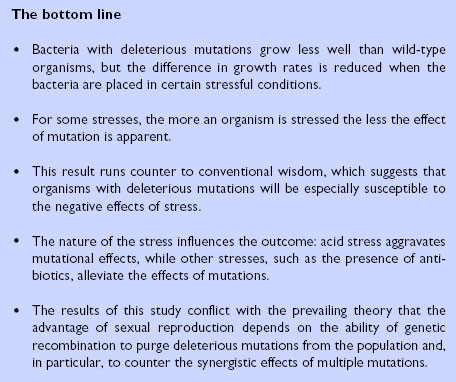 There had been previous hints at this effect. "This is part of a growing body of data that shows that we don't understand mutational effects in different environmental conditions," says botanist Jeffrey Blanchard, who works at the National Center for Genomic Resources, Santa Fe, USA. "I am not very surprised by the results," adds James Fry, of the Biology Department at the University of Rochester, USA. "It goes against conventional wisdom, but then I wasn't very sure I believed the conventional wisdom in the first place. We had some results in our Genetics 2002 paper cited by Kishony and Leibler – it wasn't a major emphasis of the paper, but one of the implications is that there probably were mutations in which there probably were smaller proportional effects under stressful conditions." Fry's paper [2] gave an inkling, but Kishony and Leibler's has much more power to see what is going on. "Working with Drosophila means that our study was more crude than theirs," Fry notes.
Editors' note

Roy Kishony and Stanislas Leibler chose not to be quoted directly on their views within this article.Google Scholar
© BioMed Central Ltd 2003