Research news

Open Access
Controlling how many cells make a fly
Journal of Biology
2003
2:16
Published: 21 August 2003
In our earliest biology lessons we learnt that all living organisms grow, and that growth requires an increase in both cell number and cell size. But how is this controlled?
Insulin
and
insulin-like growth factors
(IGFs; see the 'Background' box) play a critical role, and they are also implicated in medical conditions such as cancer and diabetes. So understanding their mechanism of action at the molecular level will have important consequences not only for our knowledge of biology, but for pathology as well.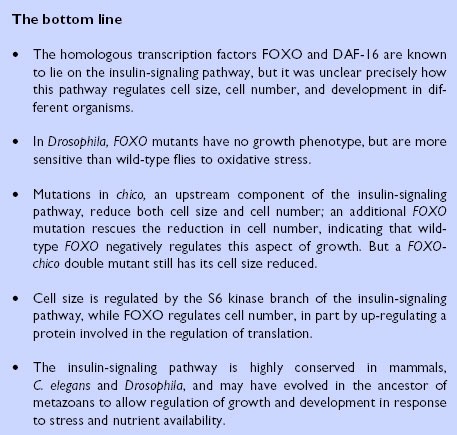 Working at the University of Zürich, Switzerland, Ernst Hafen heads a team that is looking at the control of growth. "You can think of our work in terms of a triangle," he explains. "At the three corners are
Homo sapiens
,
Caenorhabditis elegans
and
Drosophila melanogaster
, and at the center of the triangle is the
insulin-signaling pathway
." Hafen's team has learnt important lessons about the pathway from each species, and their new findings, published in this issue of
Journal of Biology
[
1
], add significant evidence in support of the idea that the key functions of the pathway have been powerfully conserved through evolution. The new results also serve to tie together controls of cell size and cell number with how organisms respond to oxidative stress and nutrient availability (see 'The bottom line' box for a summary of their work).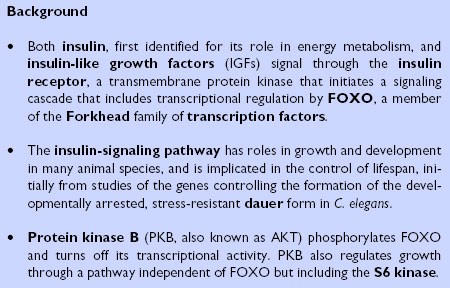 © BioMed Central Ltd 2003