What are journals for?
Journal of Biology
2009
8:1
Published: 27 January 2009
Here is a truism. The function of a scientific journal is to disseminate the results of research. It also of course has a responsibility to ensure as far as possible that the results reported are valid. But it would seem from the comments of many biologists – sometimes in print [1–3] – that the policing function of journals (especially but not exclusively the high-profile journals) is in danger of overwhelming their primary function as publishers.
The chief source of frustration seems to be with increasingly frequent, time-consuming and sometimes iterative re-review which, it is commonly felt, makes little difference to the eventual validity or quality of the paper.
For that reason, Journal of Biology will embark, starting now, on an experimental policy of allowing authors to opt out of re-review. This is in keeping with the premise of open-access publishing, of which our publisher, BioMed Central, was the pioneer, that freedom from the practical constraints imposed by paper and printing should remove all needless barriers to access to research results.
The decision to launch the experiment was taken after consultation with members of our Editorial Board, who were on balance (by about four to one), and often emphatically, in favor of it. Box
1
contains a highly selective sample of the raw data. Even those members of the Board who had misgivings (on which more below) often expressed themselves with some passion about difficulties with reviewers: one of the most impassioned of the six we have quoted in fact felt that the need for rigorous review should nonetheless transcend the wish to escape the horrors of current reviewing practice. – Not that we are proposing to abandon review.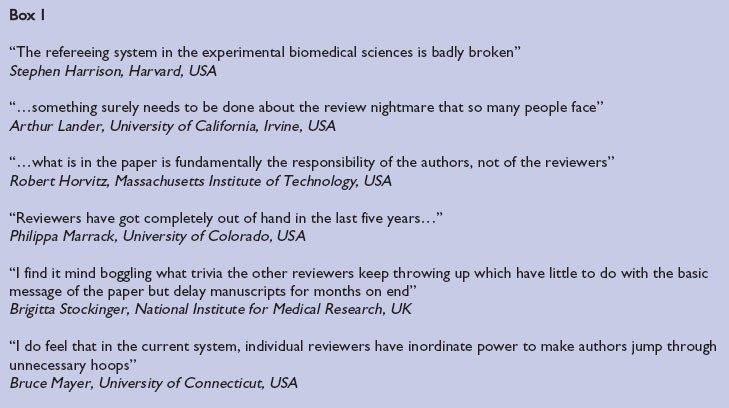 Briefly, the proposition is as follows.
All papers submitted to Journal of Biology will first be screened by a member of our Editorial Board, or an appropriate expert of equivalent sagacity, for suitability in principle for the journal, so that referees are asked to judge only whether the data adequately support the conclusions: this policy is already in operation.
If the conclusions are not adequately supported by the data the paper will be rejected.
If the paper is deemed perfect as it stands, it will be published without delay (and with an accompanying commentary, as is our normal practice).
If one or more of our referees has suggestions or demands for revision, including the addition of data, authors will be requested to respond to the referees and revise the manuscript, and will be asked at that point to say whether they wish the referees to look again. (It is probably worth saying that authors will not be invited to select which referees see their paper again: if they opt for re-review the paper will be seen by all of the original referees – who will also see one another's comments and the responses of the authors: this is our normal procedure and we find it useful, for reasons I probably need not spell out.)
Where authors opt out of re-review their responses and revised manuscript will be carefully scrutinized by the editorial staff, and if it seems clear to us that substantive issues have not been addressed the manuscript may be rejected. Otherwise it will be published, with an accompanying commentary whose author will have access to the referees' reports and the authors' response.
© BioMed Central Ltd 2009