Apes, lice and prehistory
Journal of Biology
2009
8:20
Published: 10 February 2009
Hans Zinsser's Rats, Lice and History [1] is a classic in microbiology. Written in 1934 and subtitled The biography of a bacillus, it tells the tale of that dreaded disease typhus, its reservoir in rats and its transmission among humans by lice. Here, I discuss how we may in the course of prehistory have acquired the lice, and how other infections may, like the typhus bacillus, come to be shared by us and the animal species with which we are in close contact. It is a tale of infidelity that I shall begin with the recent research on lice of David Reed and colleagues [2, 3] and of Mark Stoneking's group [4] who, on the basis of phylogenetic analysis, have speculated that we may have acquired a clade of head lice from another hominid species and pubic lice from gorillas; they have also suggested that lice might help determine the date when humans adopted clothing. I shall examine this unfolding story in the context of what we know about microbial infections, and will look at the promiscuity of viruses through the lens of modern molecular technology; and I will add my own speculation on why naked apes have pubic hair.
Lice are small, wingless insects that cannot live independently from their hosts (Figure
1
). They are frequent parasites of birds and mammals, each host species having its own type of louse. Humans harbor three kinds of these ectoparasites: head lice, body lice and pubic lice. For much of human history and prehistory blood-sucking lice have been so prevalent that they became part of our everyday language. We speak about feeling lousy and admonish our friends for nit-picking. Nits are the eggs of lice, expertly cemented onto hair shafts, as many parents know from painstakingly combing them out of their children's hair. Grooming among monkeys and apes is not only a means of social bonding but also a useful way of controlling nits and lice (Figure
2
).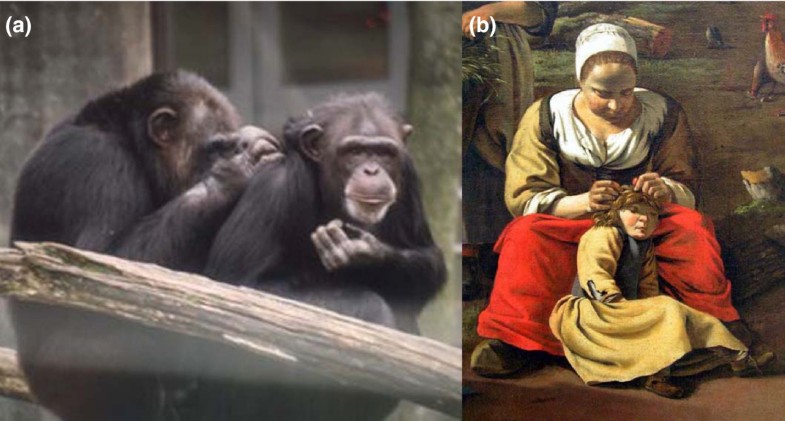 (1)
Division of Infection and Immunity, University College London, 46 Cleveland Street, London, W1T 4JF, UK
© BioMed Central Ltd 2009