Research news

Open Access
Making sense of centromeres
Journal of Biology
2004
3:16
Published: 31 August 2004
At the pinched waist of each eukaryotic chromosome is a region that is both elusive and enigmatic. Despite considerable effort, and multiple announcements of completed genome sequences, this zone stubbornly refuses to reveal its complete sequence, and what little we know of it at first sight runs counter to standard theories of evolution. The region in question is, of course, the centromere.
Back in the 1880s, scientists worked out that centromeres played a critical part in helping cells get their fair share of chromosomes during cell division, and we now know that it is at these sites that spindle microtubules attach. "It's not just another intriguing organelle that we would like to understand; it is central to eukaryotic biology," claims Steven Henikoff, researcher in the Basic Sciences Division of the Fred Hutchinson Cancer Research Center, Seattle, and senior author of the study of centromere protein evolution published in
Journal of Biology
[
1
] (see the
'The bottom line'
box for a summary of the work). In prokaryotes, chromosome segregation at division occurs simultaneously with DNA replication, whereas in eukaryotes the two processes occur at different points in a complex cell cycle. And while the rest of the chromosome's DNA is packaged away and consequently 'silenced' during mitosis, the centromere alone remains active in directing chromosomal movement. "The centromere is unique in eukaryotic biology - there is nothing else like it - and when we look at its evolution we find that there is nothing like it either," says Henikoff.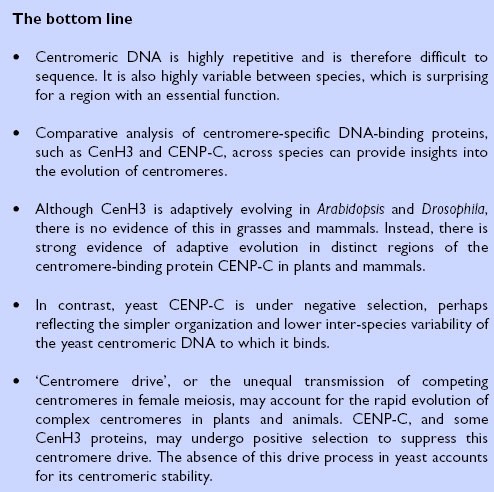 While the exact detail of the DNA sequence at the
centromeres
(see the
'Background'
box) is unknown, it is clear that the DNA is highly variable at this region both in sequence and in amount - so much so that centromere-specific DNA in the human Y chromosome varies in size by one order of magnitude between people, a feature that is also sometimes seen in other chromosomes. "The paradox is that normal expectations of evolutionary biology say that a region with such a critical and highly conserved function should have a stable sequence," says Kevin Sullivan, in the Department of Cell Biology at The Scripps Research Institute, who has been working on the structure and function of centromere proteins for 15 years. One would expect the DNA sequence to be passed on almost unchanged from individual to individual and even from species to species. But in reality, flies, yeast, plants and mammals have highly individualistic versions of centromere DNA.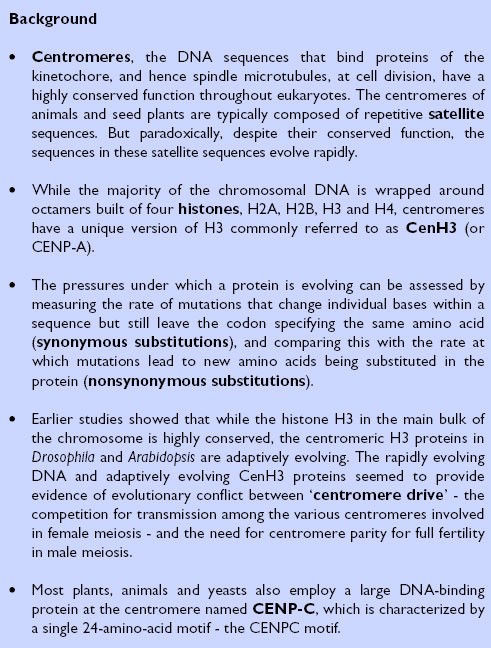 © BioMed Central Ltd 2004