Natural and engineered mosquito immunity
Journal of Biology
2009
8:40
Mosquitoes transmit some of the most deadly infectious diseases of humans. Although malaria is the best known, mosquitoes also transmit a wide variety of viruses and other pathogens. Arthropod-transmitted viruses (arboviruses) include the causative agents of dengue, yellow fever, West Nile virus, chikungunya, and many others. The life cycle of these viruses typically depends on transmission from a suitable vertebrate host via a mosquito vector to another suitable vertebrate, and so on for ever. For some of these viruses, such as dengue, humans are the only suitable vertebrate species across most or all of their range; others, such as West Nile virus, can infect a wide range of vertebrates. The mosquito is exposed to the pathogen when she (only female mosquitoes bite) takes a blood meal from an infectious vertebrate. The virus infects the mosquito, typically first in the midgut and then disseminating through the body. When the salivary glands become infected, so that virus is present in the mosquito's saliva, she becomes infectious. The next time she takes a blood meal, her food source is exposed to the virus. If this individual becomes infected, for a period of time it will become infectious to other mosquitoes that bite it, and so the virus continues to propagate and spread.
Although insects lack the adaptive immune system of mammals, they are by no means merely passive hosts and vectors for these viruses; rather, they have multiple innate immune defenses against the various microbial challenges they encounter. RNA interference (RNAi) is one of the mosquito's major defenses against arboviruses, and suppression of this pathway has previously been shown to increase viral load in infected mosquitoes [
1
,
2
]. Two recent papers shed more light on the role of this system in insect antiviral innate immunity. Writing in
BMC Microbiology
, Cirimotich
et al
. [
3
] show that Sindbis virus engineered to express a suppressor of RNAi produces much more virus than normal in infected mosquitoes, and that this engineered virus is lethal to a range of mosquito species. Previous studies used transient knockdown of components of the RNAi pathway; Cirimotich
et al
. use a protein that binds to double-stranded RNA (dsRNA) and presumably protects it from processing in the RNAi pathway. Although either approach might have pleiotropic effects, both indicate a key role for the RNAi pathway in reducing virus replication and titer. In this regard, in a recent paper in
Nature
, Saleh
et al
. [
4
] show that
Drosophila
can mount a systemic RNAi-based response to viruses so that uninfected cells at distal locations can prepare a defense against infection. This response was shown to depend on a dsRNA uptake pathway; mutant flies defective in this pathway are hypersensitive to infection with
Drosophila
C virus and Sindbis virus.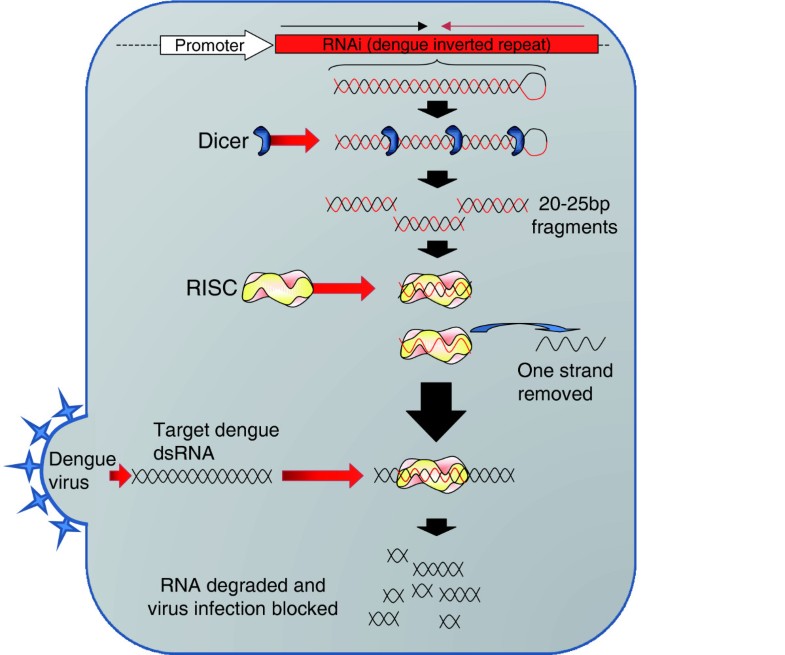 (1)
Oxitec Ltd, Milton Park, Oxford, OX14 4RS, UK
(2)
Department of Zoology, University of Oxford, South Parks Road, Oxford, OX1 2PS, UK
© BioMed Central Ltd 2009