Deciphering the genetic code of morphogenesis using functional genomics
Journal of Biology
2009
8:76
Published: 22 September 2009
Morphogenesis of the Drosophila embryo requires the three-dimensional organization of populations of cells with characteristic shapes and behaviors that give rise to the adult structure of the animal. Genetic screens have been instrumental in identifying genes that specify cell fate and cell behavior. Many of these include transcription factors that are expressed in precise spatial patterns and are required for distinct morphological behaviors. However, the downstream pathways that translate cell fate decisions into cell shape and tissue structure are not fully understood. Current advances in genome-wide expression profiling, in vivo transcription factor binding site analysis and high-throughput studies of gene-expression patterns have made it possible to identify novel genes that are expressed during morphogenetically active periods of development.
Since the sequencing of the Drosophila genome, large-scale expression studies using DNA microarrays have been employed in diverse ways to reveal the genetic networks that drive development. Time-course experiments using DNA microarrays have identified subsets of genes expressed at specific developmental stages throughout Drosophila embryogenesis [1–5]. The first few hours of embryogenesis are marked by active changes in cell fate, cell shape and cell rearrangements that are accompanied by dynamic changes in gene expression. Recent studies have determined that more than 2,000 genes, or approximately 15% of the genome, display increased expression at these early stages [3–6]. These systematic genome-wide approaches provide a global perspective on the dynamics of gene expression during embryonic development.
A major challenge now posed by these studies is how to use the overwhelming amount of information from whole-genome studies to identify specific genes with key roles in embryonic morphogenesis. The ability to integrate data from stage-specific gene-expression studies, high-throughput spatial analysis of gene-expression patterns and bioinformatics tools for protein sequence analysis is critical to the process of candidate gene selection (Figure
1
). The paper published in
BMC Biology
by Cambiazo and colleagues (Zúñiga
et al
. [
7
]) describes an integrated genome-wide approach to finding genes that are specifically upregulated during early
Drosophila
development. The authors use differential gene-expression profiling, bioinformatics,
in situ
analysis and functional characterization to identify a novel gene that is required for embryonic morphogenesis, as well as a number of interesting candidate genes for future functional analysis. Here, we discuss how these and other genomic datasets have been coupled with targeted functional analysis to gain insight into the molecular mechanisms underlying morphogenesis.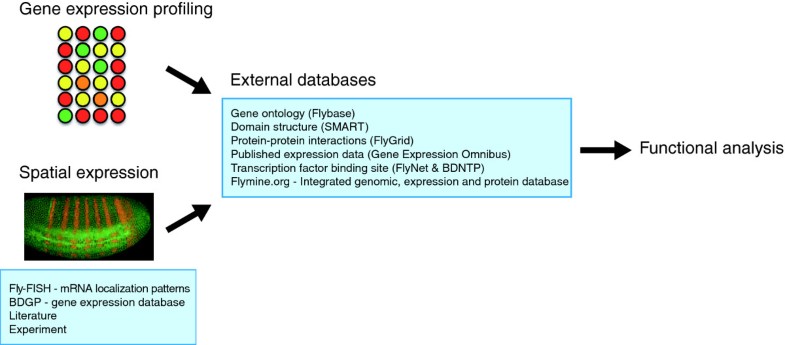 (1)
Developmental Biology Program, Sloan-Kettering Institute, 1275 York Avenue, New York, NY 10065, USA
© BioMed Central Ltd 2009