The gene complement of the ancestral bilaterian - was Urbilateria a monster?
Journal of Biology
2009
8:89
Published: 19 November 2009
The pioneers of pyrosequencing have a lot to answer for. The availability of 'next generation' DNA sequencers has provided zoologists with unforeseen opportunities to address many basic evolutionary issues and, for those of us whose interests lie beyond the model organisms, these are indeed interesting times. Not so long ago the costs of large-scale expressed sequence tag (EST) analyses were prohibitive, but the recent development of the fast and (relatively) cheap 454, Illumina and SOLiD technologies is enabling large-scale transcriptome analysis, and potentially whole-genome analysis, to be applied to a wide range of animals, providing insights into evolutionary issues that were once considered essentially intractable.
One important and controversial issue that can now be addressed is the gene complement of Urbilateria. It is clear that this ancestor of all bilateral animals had a genome resembling that of a modern vertebrate, but which also contained some genes lost from modern vertebrates, raising the issue of just how many genes were present in the ancestor. In this respect, EST studies on lophotrochozoans, such as that reported in a recent paper in
BMC Evolutionary Biology
[
1
], are proving particularly informative. Of the three major divisions within Bilateria (the Ecdysozoa, the Lophotrochozoa and the Deuterostomia; Figure
1
), Lophotrochozoa, which contains the annelids (worms) and mollusks (including snails) and various minor phyla, is still only poorly represented in terms of whole genome data.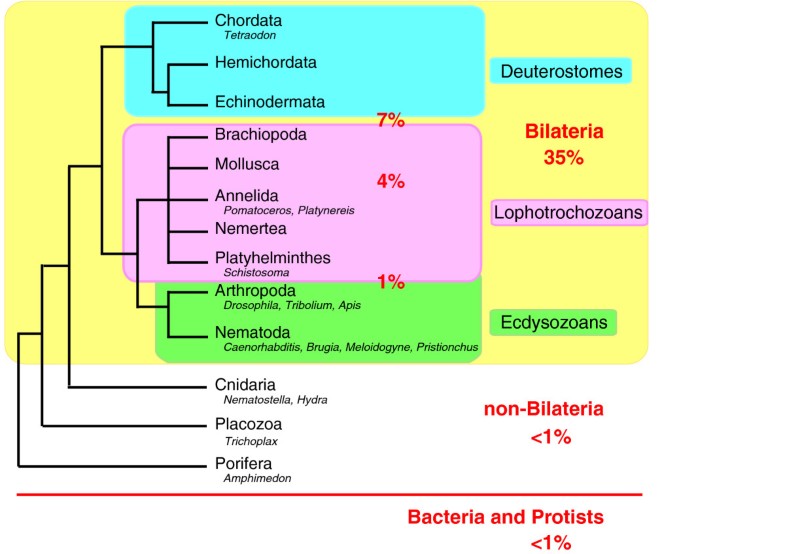 One implication of work on the annelid Platynereis dumerilii is that lophotrochozoans may be less derived (are more representative of ancestral character states) than members of Ecdysozoa [2], but it is not yet clear how representative Platynereis is. Takahashi et al. [1] have now analyzed a set of ESTs from a second and only distantly related annelid, the serpulid Pomatoceros lamarckii, which differs from Platynereis both morphologically and in lifestyle. Platynereis is a free-living predator, whereas Pomatoceros lives within a tube that it constructs and captures food from the surrounding waters using a crown of feeding tentacles through which water is filtered. Nevertheless, data from the two species lead to the same conclusion, that annelids (and perhaps lophotrochozoans in general) are less derived than the insects and nematodes investigated so far. One focus of the paper [1] was patterns of gene sharing and gene loss between Pomatoceros and the other major groups of organisms. These figures are summarized in Figure 1: Pomatoceros shares a significant number of genes (158; 7% of the total) only with deuterostomes and other lophotrochozoans, but a much smaller number (23 genes; 1% of the total) only with ecdysozoans and other lophotrochozoans. In addition, 11 genes shared only with non-bilaterians were identified, illustrating the ubiquity of gene loss.
(1)
ARC Centre of Excellence for Coral Reef Studies and Comparative Genomics Centre, James Cook University, Townsville, Queensland, 4811, Australia
(2)
Centre for Molecular Genetics of Development and School of Biology, Australian National University, Canberra, ACT 2601, Australia
© BioMed Central Ltd 2009