Research article

Open Access
The hydrodynamics of dolphin drafting
Journal of Biology
2004
3:8
Received: 25 February 2003
Accepted: 24 March 2004
Published: 4 May 2004
Abstract
Background
Drafting in cetaceans is defined as the transfer of forces between individuals without actual physical contact between them. This behavior has long been surmised to explain how young dolphin calves keep up with their rapidly moving mothers. It has recently been observed that a significant number of calves become permanently separated from their mothers during chases by tuna vessels. A study of the hydrodynamics of drafting, initiated in the hope of understanding the mechanisms causing the separation of mothers and calves during fishing-related activities, is reported here.
Results
Quantitative results are shown for the forces and moments around a pair of unequally sized dolphin-like slender bodies. These include two major effects. First, the so-called Bernoulli suction, which stems from the fact that the local pressure drops in areas of high speed, results in an attractive force between mother and calf. Second is the displacement effect, in which the motion of the mother causes the water in front to move forwards and radially outwards, and water behind the body to move forwards to replace the animal's mass. Thus, the calf can gain a 'free ride' in the forward-moving areas. Utilizing these effects, the neonate can gain up to 90% of the thrust needed to move alongside the mother at speeds of up to 2.4 m/sec. A comparison with observations of eastern spinner dolphins (Stenella longirostris) is presented, showing savings of up to 60% in the thrust that calves require if they are to keep up with their mothers.
Conclusions
A theoretical analysis, backed by observations of free-swimming dolphin schools, indicates that hydrodynamic interactions with mothers play an important role in enabling dolphin calves to keep up with rapidly moving adult school members.
Keywords
Drag Coefficient
Additional Data File
Swimming Speed
Vortex Street
Slender Body Theory
Background
The problem of separation of mother-calf pairs in chase situations has become a serious concern in fishing-related cetacean mortality, in particular in the eastern tropical Pacific Ocean where tuna are fished with a purse-seine method, in which schools of dolphins are encircled with a fishing net to capture the tuna concentrated below [1]. The phenomenon of separation has been linked to the escape response of the mother, and has been described in detail in a pair of recent reports [2, 3]. The present study examines the hydrodynamics of dolphin mother-calf interactions, with the purpose of identifying possible reasons for loss of contact between mother and calf during chases.
The hydrodynamics of the drafting situation is extremely complex, as it deals with unsteady motions of two flexible bodies of different size, moving, while changing shape, at varying speeds and distances from the water surface and from each other, and periodically piercing the surface. In addition, there are several different preferred drafting positions for the calf [2], which appear at different ages and different modes of motion. These include the newborn being supported high on the mother's flank, within a few centimeters of her body, immediately following birth; this is sometimes called the 'neonate position'. It has been observed that neonates cannot control buoyancy well [2], and they tend to 'pop like corks' to the surface. Within a few hours the calf is moved down to a more lateral position (the 'echelon position'). This involves positioning of the infant within 10 cm of the mother's flank, with the neonate's dorsal fin a little anterior to, level with, or slightly behind, the mother's dorsal fin, and the neonate's body stationed vertically somewhere between the mother's upper body and mid-body. The echelon position is characterized by the infant making relatively few tail fluke movements as it 'drafts' alongside its mother, indicating a hydrodynamic advantage.
Older calves are seen more often in the 'infant position', which involves swimming under the mother's tail section with the neonate's head (or melon) lightly touching the mother's abdomen. Once they are several months old, calves swim in the echelon position about 40% of the time and swim in the infant position about 30% of the time. Gubbins et al. [4] report that at the age of 12 months, calves still spend about 50% of their time in close proximity to their mothers, with probabilities of 30% and 35% of finding a calf in the echelon or the infant position, respectively. Calves have apparently outgrown their dependence upon the mother by the end of the third year, and spend relatively little time in the echelon position, mainly swimming side by side with their mothers as adults do.
There is very little quantitative information on drafting in dolphins, and much of the extant data is qualitative (for example, 'close proximity' is not reported in actual distances in the different positions). Such data as do exist will be briefly reviewed here, and mentioned again when specifically used in the calculations later in this article.
The experimental comparisons used here are based on data for eastern spinner dolphins,
Stenella longinostris
, for which drafting situations (such as those discussed below and shown in Figure
1
) were documented by aerial photography [
5
]; see Materials and methods section for further details. Physical data for the size and mass of dolphin calves and adults of several species are reviewed by Edwards [
2
], showing that the shape does not change significantly during growth, and thus the body shape from beak to caudal peduncle can be well approximated by a body of rotation of ellipsoidal shape and aspect ratio 6:1. (Data from [
2
] show that the actual aspect ratio decreases from about 6.3:1 for neonates, to 6:1 for adults.) Calves at birth are 85-90 cm long, while adults are up to about 190 cm [
2
], so that the mass ratio changes from 10:1 to 1:1 during the first three years of life. Drafting is observed at swimming speeds of up to 2.4 m/sec. For this aerobic speed range the ratio of swimming drag to gliding drag for dolphins is in the range 1 <
β
< 5, with the value of 3 applicable for average estimates [
6
].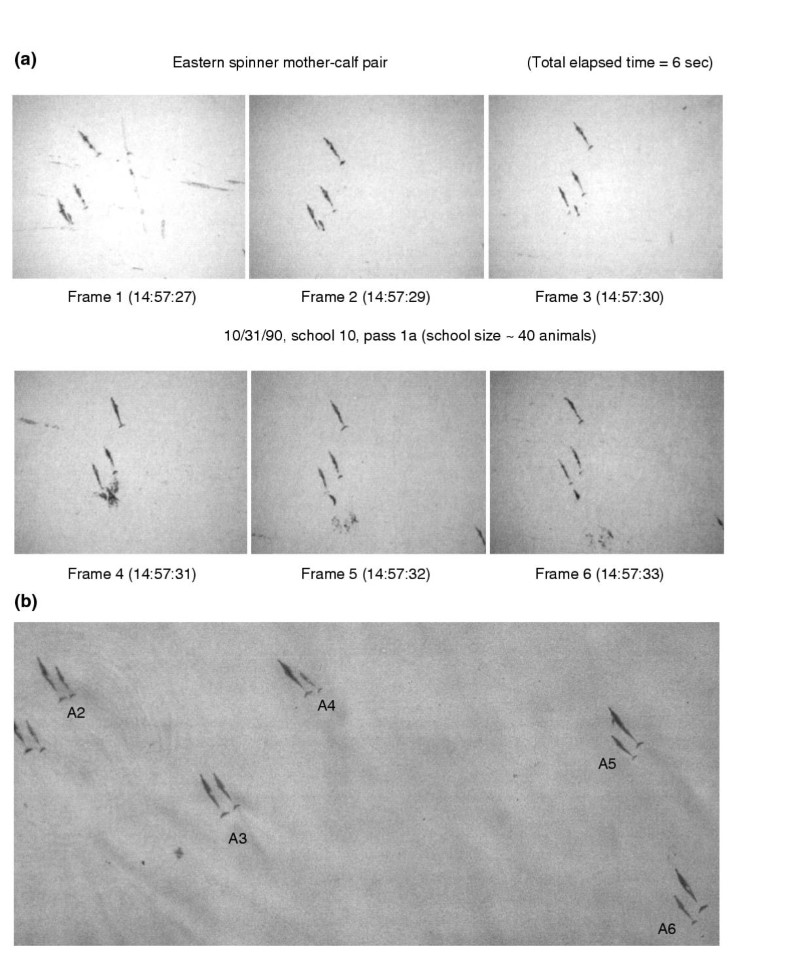 In some aerial records of mother-calf pairs moving at high speed, one can observe the calf moving from one side to the other obliquely behind the mother. This motion may be due to the bias in yaw that the calf experiences when moving on one side, and an attempt to 'even' this out, by periodically changing sides.
The first step in the analysis is to try to extract the dominant effects of the postulated hydrodynamic interaction and to build a simplified model, which will be able to give quantitative predictions for the major parameters, without losing relevance. This model can then serve as a building block for further, more complicated descriptions. This procedure is complicated, however, by the fact that empirical data are scarce and partial with large inherent errors. Such a model should be simple enough to be solvable by semi-analytic methods before delving into full numerical analysis, the accuracy of which will be compromised by the large scatter in experimental input data.
Obviously the model needs to be accurate and detailed enough to give useful results. Lang [7] made a list of possible interactions, based in part on the analysis by Kelly [8]. In the latter paper, it is assumed that the flow is described by classical solutions of two equal-sized spheres moving at the same speed, either in the direction of the line of centers, or perpendicular to this line [9, 10]. These solutions show the great advantage of the inviscid flow assumption, which allows linearization, and thus superposition of solutions, such that the two existing solutions can be combined to form the flow-field around two spheres at any orientation to the oncoming flow. While Kelly's work [8] showed that there is a possibility of one sphere producing a pressure field that can produce thrust on an object in certain neighboring areas, the spherical model is too crude to offer accurate enough insight into the forces on nearby elongate bodies, especially when there is a big size difference between the interacting bodies, as in neonate drafting. Kelly's results [8] are based on Lamb's [9] approximate method of reflections, which, as he mentions, results in errors of up to 12% for touching spheres, dropping to 0.3% at one radius separation. Since that work was performed, exact solutions for the two-sphere interaction have been calculated [11], but the differences do not qualitatively change the conclusions reached by Kelly [8], and therefore the two-sphere model is still not accurate enough to be a predictive, or even an explanatory, tool for drafting.
Results and discussion
The modeling process is started by looking at drafting in water far enough from the surface to neglect surface wave (Froude number) effects. Viscosity (boundary layer) effects are left out at this stage, allowing the use of the linear, potential flow model. This will allow superposition of solutions, as mentioned above. Effects of viscosity will be included where required at a later stage (see below). This is the equivalent of using the Kutta-Joukowski condition in airfoil theory [10], which simulates the results of viscous effects into an inviscid computation.
Next, assume that both mother and calf are moving without changing body shape - that is, with a fixed (rigid) body shape (no tail oscillations). On the basis of observations on several dolphin species, this shape is taken to be an oblate ellipsoidal shape of aspect ratio of about 6 (see Figure
2
). Lang [
7
] used a similar approach, defining the body shape as a 6:1 ellipsoid with an added tail region, which adds 20% to the length and 20% to the total surface area. The effects of swimming motions are partly accounted for by adjusting the drag coefficient to include the effects of swimming, as mentioned in the Background section. Further effects of the swimming motions are discussed later.

Thus the drag on a swimming dolphin will be estimated as that of a 6:1 ellipsoid moving in the direction of its long axis, multiplied by 3, while a coasting dolphin will have the drag of a 6:1 ellipsoid. The drag on streamlined bodies at zero angle of attack (measured between the direction of motion and the animal's longitudinal axis) is well known [12]. The drag coefficient decreases only very slightly as the Reynolds number grows (that is, speed increases, or calf size changes with age), and also as the body aspect ratio changes slightly with age, as mentioned previously. These changes are small enough for us to take equal drag coefficients for both mother and calf.
The basic premise here is that drafting is advantageous as a result of the mother producing a flow-field that has areas of forward-moving water, resulting from a non-uniform pressure field. When the calf positions itself in these areas, it needs to produce less thrust, as the relative velocity it experiences is lower than the absolute speed of motion, and the energy required is roughly proportional to the relative velocity cubed. This is the same principle I and others used in developing models for fish schooling [13, 14], wave riding by dolphins [7, 15] and other drafting situations, such as duckling motions behind their mothers [16].
A series of cases simplified sufficiently to allow semi-analytical solutions (that is, solutions that do not require numerical analysis of the differential equations, but use computations to obtain numerical values of the solution functions) are now analyzed. The flow around ellipsoidal shapes is calculated. As mentioned above, these closely approximate dolphin shapes, when excluding fins. First a single ellipsoid is analyzed, and then two ellipsoidal shapes of equal or different sizes in close proximity.
Conclusions
Drafting has been shown to enable adult dolphins to help their young by reducing the forces required of the young for swimming. Several separate hydrodynamic effects join to produce this interaction. Under ideal conditions, the drafting force can counteract a large part of the drag experienced by a neonate calf. Examination of aerial photographs of eastern spinner dolphin mother-calf pairs shows that the predicted preferred positions for the calf to maximally benefit from these hydrodynamic effects are found in most cases. There is a need for more controlled experimental data to be able to improve the current model, especially where the effects of viscosity and free surface penetration are concerned, and to ascertain whether burst-and-coast motions are found when dolphins flee tuna fishermen. The clear implication for dolphin chases is that long chases at high speeds will result in an increased probability of separation of mother-calf pairs, as a result of a combination of fatigue on the calf's side, decreased help from the mother due to the larger body oscillations by both mother and calf, and the increased probability of erroneous leaping.
Materials and methods
Aerial photography
Images were taken in the eastern tropical Pacific Ocean from a Hughes 500D helicopter flying at approximately 60 knots (around 110 km/h) at about 250 m altitude (Figure 1a) and 220 m (Figure 1b). The camera was a 126 mm Chicago Aerial Industries KA-76 with a 152 mm lens, f = 5.6, and shutter speed 1/1200 sec, based on ambient light conditions, using Kodak Plus-X type 3404 black-and-white film. The images were converted to digital format by magnifying under the microscope by 1.25× (in each image, 1 mm is approximately 170 pixels).
Additional data file
The following is provided as an additional file: a brief overview of slender body theory used for the calculation of flow around a pair of slender bodies (Additional data file 1).
Declarations
Acknowledgements
I thank Elizabeth Edwards for asking the questions that resulted in this paper and her careful and helpful monitoring of the project, F. Archer, W.F. Perrin, and S. Reilly for useful discussions, W. Perryman and K. Cramer for permitting the use of their unpublished photographs (Figure 1) and O. Kadri and T. Haimowitz (deceased) for helping with the calculations. This study was supported by NOAA/NMFS Southwest Fisheries Science Center.
Authors' Affiliations
(1)
Faculty of Aerospace Engineering, Technion, Israel Institute of Technology, Haifa, Israel
Copyright
© Weihs; licensee BioMed Central Ltd. 2004
This article is published under license to BioMed Central Ltd. This is an Open Access article: verbatim copying and redistribution of this article are permitted in all media for any purpose, provided this notice is preserved along with the article's original URL.