Top dogs: wolf domestication and wealth
Journal of Biology
2010
9:10
Published: 24 February 2010
Domestication is a peculiarly human endeavor. The idea that we can learn about ourselves by studying man-made animals is well worn, and considerable effort has been put to the cause [1, 2]. Although dogs are surely the first domesticate [3], the history regarding the location of their transformation from wolves, and the peoples responsible for it, has been confusing, with genetic evidence pointing to Europe, the Far East and places in between [4–6].
Although other waves of domestication - of chickens, some pigs, llamas, and water buffalo, among others - took place in China and the Americas [
7
], most of the Western barnyard animals and the cat were domesticated between 12,000 and 8,000 years ago in a region of the Middle East known as the Fertile Crescent [
7
–
10
] and are exclusively the product of a sedentary, agricultural, civilized life [
7
,
9
,
11
]. Dogs have been considered as an important exception, the suspicion being that they were domesticated earlier and (perhaps) elsewhere, the product of a still more distant and primitive hunter-gatherer past [
12
] (Figure
1
). The conventional thinking has been that wolves, being highly mobile, were naturally well equipped to follow bands of hunters, of no fixed address, as they roved the end of the Paleolithic in search of game. Proto-dogs might have scavenged kills left behind by humans as they moved in search of new game, gradually becoming accustomed to human contact until, over generations, a fully domesticated dog evolved, ready to be put to work [
9
].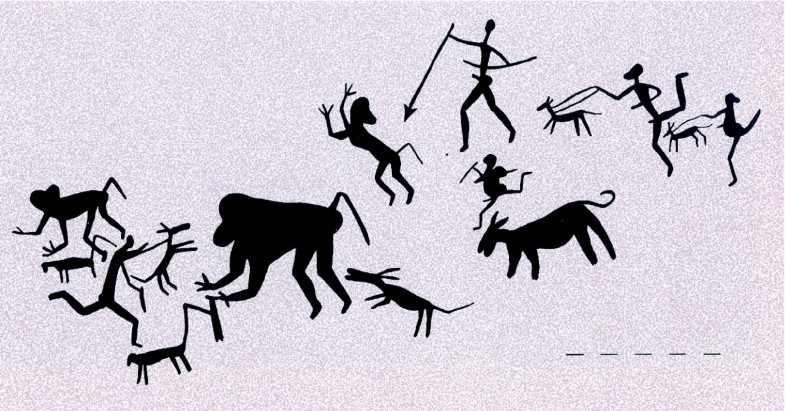 A recent paper in BMC Biology by Gray et al. [13] enables the dog's tale to be viewed through a different prism, bringing genetics into line with archeology, and shining a light (yet again) on the Middle East as the locus of dog domestication, or at least of the appearance of small dogs, and, more importantly, by suggesting that the wolf-dog barrier was jumped at about the time when human communities became settled. This report [13] is noteworthy because it illuminates the origin of small dogs, suggesting a new focus for artificial selection, but also because it provokes an intriguing view of human civilization that puts dogs in the role of not just a treasured companion, but a precursor to wealth and inequality! We present that view in the spirit of speculative musing.
(1)
Wildlife Conservation Research Unit, The Recanati-Kaplan Centre, Department of Zoology, University of Oxford, Tubney House, Abingdon Road, Tubney, Abingdon, OX13 5QL, UK
(2)
Laboratory of Genomic Diversity, Genetics Section, National Cancer Institute-Frederick Cancer Research Facility, Bldg 560, Rm 11-26, Frederick, Maryland 21702-1201, USA
© BioMed Central Ltd 2010