Recycling signals in the neural crest
Journal of Biology
2006
4:10
Published: 9 January 2006
The vertebrate neural crest is characterized by a high degree of multipotentiality and migratory ability. These cells originate at the border between neural and nonneural ectoderm as the neural tube closes to form the central nervous system. Initially residing within the dorsal neural tube as a relatively homogeneous precursor population, neural crest cells are thought to represent stem cells. They subsequently delaminate from the neural tube epithelium as individual cells and migrate extensively throughout the body, proliferating at the same time. Finally, they differentiate into many different cell types under the influence of growth factors differentially expressed along their migratory pathways and/or at their destinations. Neural crest derivatives include cartilage and bones of the face, glia, melanocytes, smooth muscle, dermis, and connective tissue, as well as sensory, sympathetic, and enteric neurons.
Defects in neural crest development, characterized by mutations in different signaling pathway components that control the neural crest, give rise to various disorders and syndromes in humans. Comparative studies of the signaling pathways used during neural crest development in a range of model vertebrates can provide insights into such disorders. These signals are used during the induction, migration, and differentiation of the neural crest, and the same key molecules are recycled at temporally distinct developmental phases (Figure
1
). This means that the same signal can elicit very different cellular responses in pre-migratory, migratory and post-migratory neural crest. The main pathways used are those mediated by three families of signaling molecules: transforming growth factor β (TGFβ), fibroblast growth factor (FGF) and Wnts. Here we briefly review the known roles of members of these families in
Xenopus
, zebrafish, bird, and mouse embryos, noting some of the human neural crest disorders they may help us to understand. Such disorders include various human skeletal dysmorphology syndromes (Apert syndrome, Beare-Stevenson cutis gyrata syndrome), diseases of the nervous system (neurofibromatosis and Hirschsprung's disease) and pigment disorders (Waardenburg syndrome).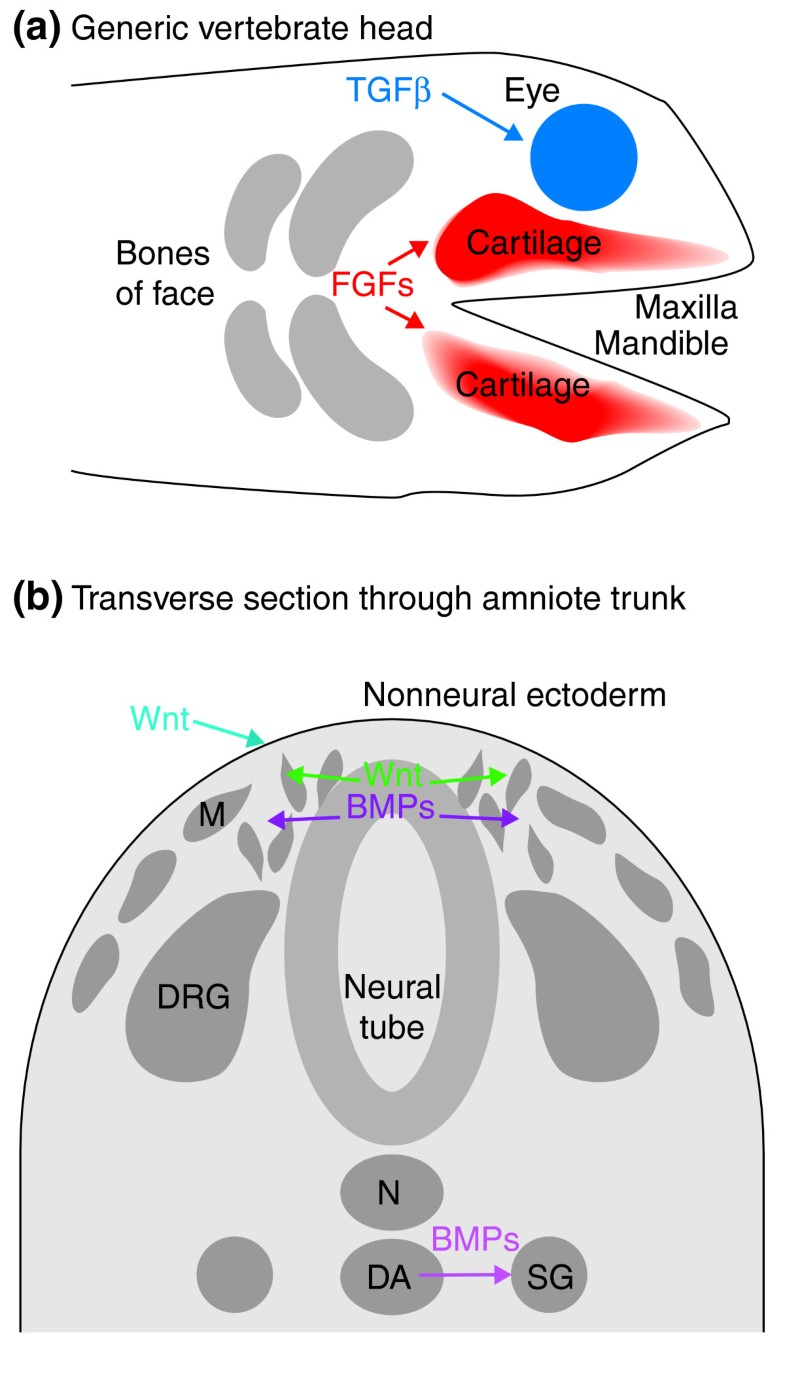 (1)
Division of Biology 139-74, California Institute of Technology, Pasadena, CA 91125, USA
© BioMed Central Ltd 2006