Mechanisms of ubiquitin transfer by the anaphase-promoting complex
Mary E Matyskiela

1,

Monica C Rodrigo-Brenni

1 and

David O Morgan

1

Email author
Journal of Biology
2009
8:92
Published: 26 October 2009
The function of a ubiquitin-protein ligase, as its name implies, is to catalyze the ligation of the small protein ubiquitin to other proteins. Ubiquitin attachment occurs primarily at lysine residues, and in many cases the reaction is repeated at several lysines on the same protein and on ubiquitin itself, resulting in decoration of the target protein with multiple polyubiquitin chains, which send the protein to the proteasome for destruction or alter other aspects of protein function [1, 2]. Protein ubiquitination is a versatile and effective mechanism for controlling protein behavior, and has been adapted for diverse purposes by many regulatory systems in the eukaryotic cell.
There is enormous complexity in the mechanisms that allow ubiquitin-protein ligases to recognize and repeatedly modify specific substrate proteins. Our purpose here is to illustrate these mechanisms in the case of an unusually large and complex ubiquitin-protein ligase called the anaphase-promoting complex or cyclosome (APC), which promotes the proteasomal destruction of key mitotic regulators in all eukaryotic cells (for reviews, see [
3
–
6
]; Figure
1
). The APC, like other ubiquitin-protein ligases or E3s, promotes the transfer of ubiquitin to a target protein from another protein called a ubiquitin-conjugating enzyme or E2 (Figure
2a
). The APC can therefore be viewed as a platform with specific binding sites for two substrates: the E2-ubiquitin conjugate and the target protein, which are positioned by the APC to allow the ε-amino group of a target lysine to attack the thioester bond that links the carboxyl terminus of ubiquitin to the active-site cysteine of the E2 (Figure
2b
).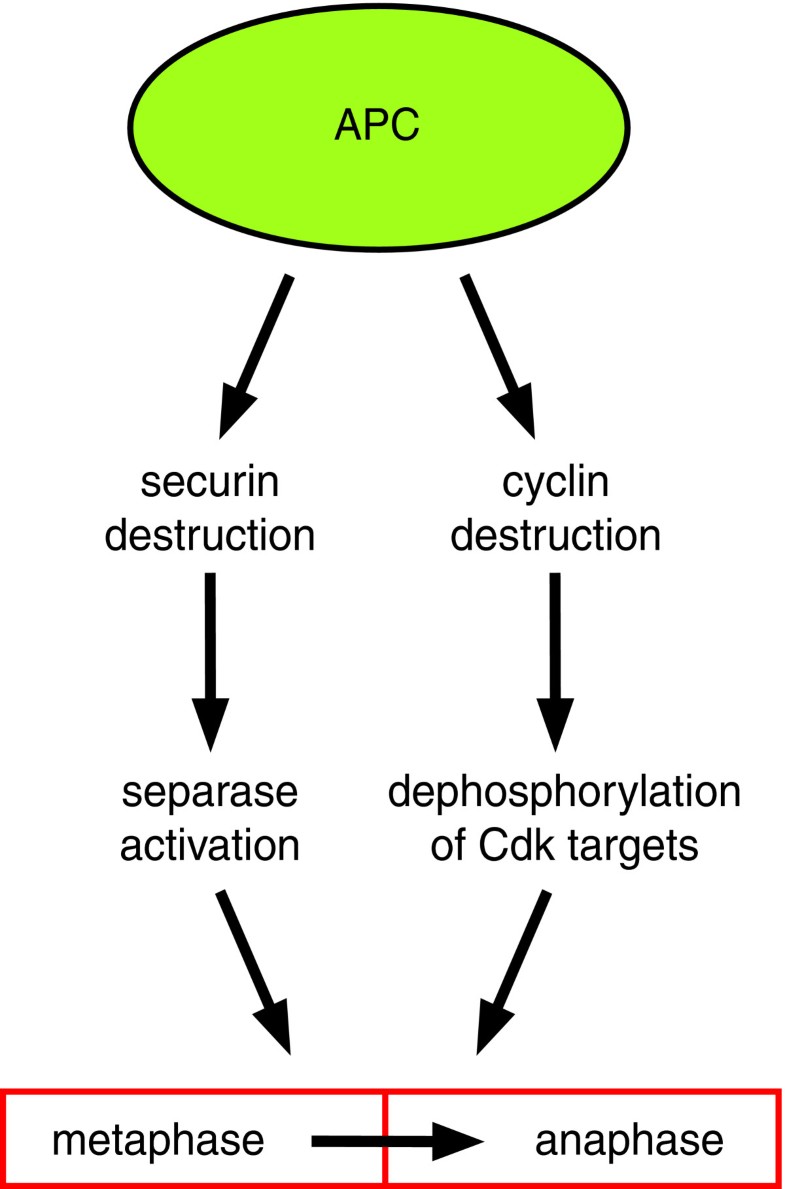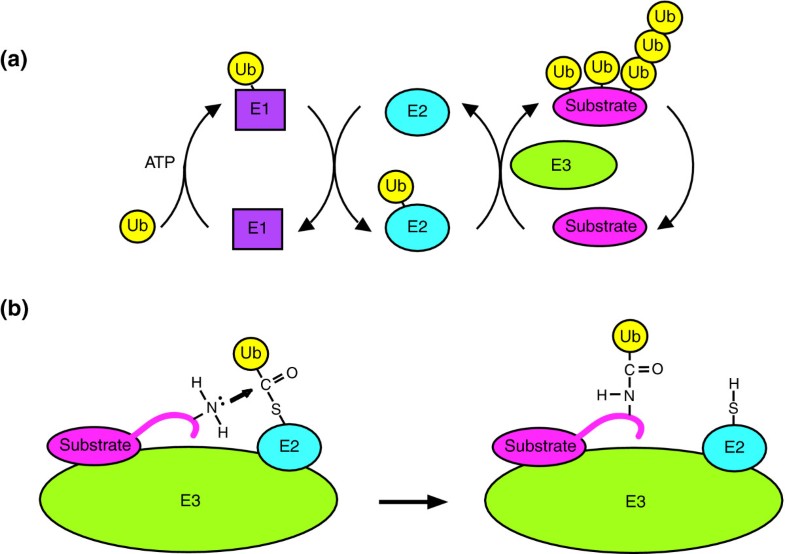 The APC must bind substrate proteins with high specificity to ensure that only the appropriate targets are destroyed. In addition, the APC and/or its substrates must be flexible enough to allow the transfer of ubiquitin to multiple lysines on the target protein and to specific lysines on ubiquitin itself (Figure 2a). We will describe the basis for this balance of specificity and flexibility by focusing on two key issues: substrate binding and the catalysis of ubiquitin transfer. These features of APC mechanism are likely to have important implications for ubiquitin-protein ligases in general.
(1)
Departments of Physiology and Biochemistry and Biophysics, University of California, San Francisco, CA 94158, USA
© BioMed Central Ltd 2009