Molecular machines or pleiomorphic ensembles: signaling complexes revisited
Journal of Biology
2009
8:81
Published: 16 October 2009
A cell must constantly monitor cues from its environment and adjust its activities accordingly. Faithful and reliable signal transduction is not only essential for normal life, but its malfunctioning underlies many human health problems. Enormous strides have been made in the past several decades toward understanding how this process works at the molecular level. It is notable that when describing the fruits of that work, those of us who work on cell signaling would be hard-pressed to avoid terms such as 'machinery' and 'mechanism'. The analogy between cell signaling and man-made machines is all-pervasive, frequently adopting the imagery of elaborate clockwork mechanisms or electronic circuit boards. This perception is undoubtedly shaped by what we know: the machines that we use in our everyday life and the ways that we describe such machines in diagrams or in words. But is this really an accurate, or useful, description of the actual processes used by cells? We will argue that signaling complexes typically consist of pleiomorphic and highly dynamic molecular ensembles that are challenging to study and to describe accurately. Conventional mechanical descriptions not only misrepresent this reality, they can be actively counterproductive by misdirecting us from investigating critical issues.
First, let us define what we mean by a bona fide manmade machine. A key property of such a structure is that it can be described in terms of a parts list and a diagram or blueprint for how those parts fit together. Any machine, from a can-opener to a computer chip to an Airbus, can be rendered in a diagram with sufficient detail that someone who has never seen one could make it from the component parts.
Using the diagram, one could assemble any number of individual machines, each of which would be virtually identical in appearance and performance.
Cells contain a number of structures that conform quite well to this idea of a machine (see Box
1
). Ribosomes, for example, or proteasomes, or nuclear pores, all have a clearly defined structure. Indeed, the ribosome has been subjected to X-ray crystallography, and the complex interlocking relationship of its many component proteins and structural RNAs has been revealed in molecular detail. The same list of components, in the same stoichiometry and physical relationship, is found in every ribosome in the cell (of course posttranslational modifications and accessory factors provide some variation, but the basic plan is the same). Because the parts interlock in a unique configuration, with multiple interactions between multiple components, the assembly of such structures is highly cooperative. This means that partly assembled structures are unstable and transient, whereas the fully assembled structure is very stable and unlikely to fall apart.


Now let us compare these machine-like structures with the complexes that mediate signal transduction in the cell. As an example, consider a transmembrane receptor for a mitogen such as platelet-derived growth factor (PDGF). How this receptor transduces signals has been worked out in great detail [
1
], and will briefly be summarized here (Figure
1
). The receptor has intrinsic tyrosine kinase activity (that is, it can catalyze the transfer of phosphate from ATP to tyrosine groups on substrate proteins), but this activity is quiescent in the unstimulated receptor. Once the receptor binds its ligand, however, receptor dimerization or oligomerization increases the likelihood of transphosphorylation of the receptor by its new-found neighbors. Phosphorylation at a critical site in the catalytic domain induces conformational changes that lock the domain into an active conformation that can go on to phosphorylate other receptors, as well as other substrate proteins in the vicinity.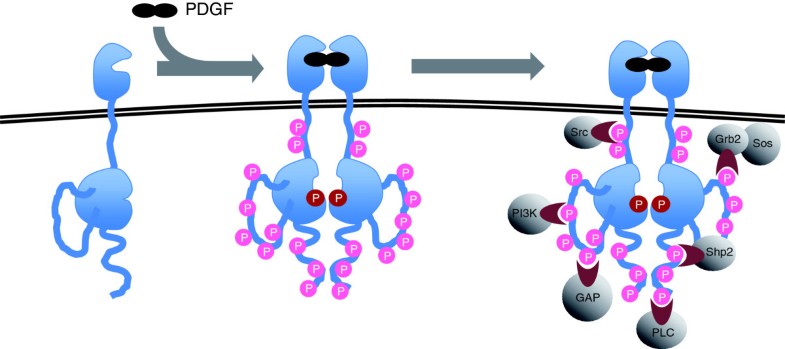 (1)
Richard D Berlin Center for Cell Analysis and Modeling, University of Connecticut Health Center, 263 Farmington Avenue, Farmington, CT 06030-3301, USA
(2)
Raymond and Beverly Sackler Laboratory of Genetics and Molecular Medicine, University of Connecticut Health Center, 263 Farmington Avenue, Farmington, CT 06030-3301, USA
(3)
Department of Genetics and Developmental Biology, University of Connecticut Health Center, 263 Farmington Avenue, Farmington, CT 06030-3301, USA
(4)
Department of Cell Biology, University of Connecticut Health Center, 263 Farmington Avenue, Farmington, CT 06030-3301, USA
© BioMed Central Ltd 2009