The nature of cell-cycle checkpoints: facts and fallacies
Journal of Biology
2009
8:88
Published: 16 November 2009
"Cell biology is not a notoriously self-critical field. We cell biologists are not reticent about announcing breakthroughs and making promises of imminent revolutions. However, one cannot summarize the history of research and thought about mitosis as a progress from primitive glimmerings to modern revelations. Nothing we have learned about mitosis since it was discovered a century ago is as dazzling as the discovery itself" [1].
Without doubt, each scientific generation gathers more information about mitosis than its predecessors. But despite stunning advances in imaging that allow many of the intimate details of spindle assembly and chromosome behavior to be visualized, and concurrent strides in molecular genetics and biochemistry that have identified a plethora of molecules and interactions directly or indirectly required for proper mitosis, major conceptual advances are, as opined by Daniel Mazia in the quotation above, rare. Yet, we believe that the concept of cell-cycle checkpoint controls articulated in the late 20th century by Leland Hartwell (for which he shared the Nobel Prize in 2001) was a breakthrough to rival the discovery of mitosis itself.
Hartwell's idea departed from the traditional view that stage-to-stage progress through the cell cycle occurred whenever there were sufficient means to move forward. Instead, he argued that progression is actively controlled by external mechanisms that are not themselves intrinsic to the process. Checkpoints guard critical cell-cycle transitions by ensuring that the previous phase is complete and error-free before the cell is allowed to move forward. However, since its introduction 20 years ago the checkpoint concept has been re-tailored to suit a variety of views, many of which are based on misleading terminology and misconceptions. For example, delays in mitosis are often ascribed to 'activation' of the mitotic checkpoint, a descriptor that fails to recognize that the checkpoint by definition is active as the cell starts mitosis. Conversely, the completion of mitosis in the presence of misaligned chromosomes is often automatically interpreted to indicate a defective checkpoint, even though in the absence of critical testing alternative interpretations are equally likely. In this article we define the critical characteristics of checkpoints and illustrate how confusion generated by the inconsistent use of terminology may impede progress by fostering claims that mean very different things to different researchers. We will illustrate our points with examples from the checkpoint that controls progression through mitosis (Figure
1
).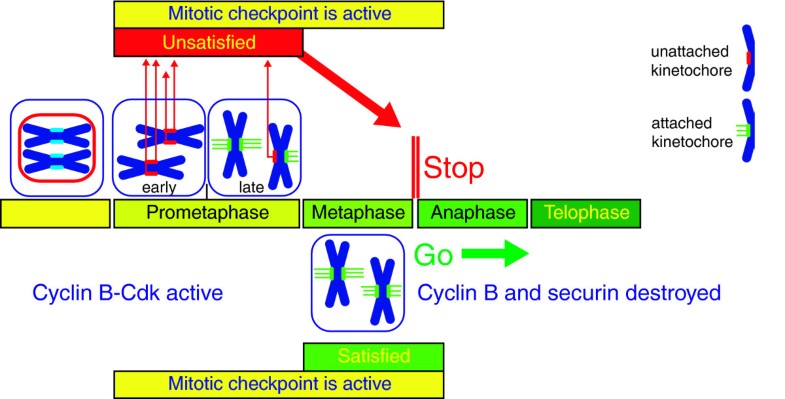 (1)
Wadsworth Center, PO Box 509, Albany, NY 12201-0509, USA
© BioMed Central Ltd 2009