The interaction map of yeast: terra incognita?
Journal of Biology
2006
5:10
Biologists today find themselves in a situation not unlike that of 15th-century explorers. Roughly half a millennium ago, an era of exploration stemmed from a need for better information and more precise maps to facilitate new commerce. Novel technologies, including faster ships and improved navigation, facilitated exploration. The one-to-many communication made possible by the printing press accelerated the impact of these new discoveries, and our views of the planet and of ourselves were both revolutionized. In our own time, technology pushes biology towards equally revolutionary breakthroughs. The fundamental purpose – deeper understanding and improvement of life – remains the same now as then, although the details, methods and goals are of course vastly different. The sequencing of hundreds of genomes, the systematic measurements of genome activity, the large-scale assays of protein-protein and protein-DNA binding, and the use of computers to analyze information and facilitate many-to-many communication, collectively promise an unprecedented understanding of the workings of the cell, and a revolution in medicine.
The advent of high-throughput biology allows us for the first time in history to think concretely about a global representation of the cell. Unlike the cartographers of old, we are faced not merely with representing a static globe with fixed features; we must map a cellular universe with constantly interweaving themes, which alter as environments change. This enterprise is daunting, and so too is the less complex undertaking of specifying and representing the allowable interactions, which are selected by particular environments, without specifying the rules of selection. Data produced by current and yet-unforeseen technologies will eventually provide the interaction maps and the rules of environmental selection needed to fully understand the behavior of living cells. But at the moment, even the complexity of the problem remains unspecified. How many molecular connections make up a cell? How do these interactions combine to make functional cells, with a broad spectrum of phenotypes? A striking benefit of network mapping is not just what is revealed, but also what is not revealed and remains to be uncovered.
An important new paper by Reguly and Breitkreutz
et al
. [
1
] in
Journal of Biology
makes it clear that the landscape of even the best-studied eukaryote, the budding yeast
Saccharomyces cerevisiae
, remains significantly unexplored. The authors used the extensive literature based on decades of research to curate a reference network of known interactions in yeast. This literature-curated collection corresponds to a network of some 33,000 high-confidence interactions between proteins or genes in yeast. Surprisingly, it shows little overlap with the published physical [
2
–
6
] and genetic [
7
] interaction networks reported in recent years by large-scale assays. Even with apparent similarities in topology or connectivity, only a fraction of the information in the curated network has been recovered by various high-throughput screening techniques such as systematic yeast two-hybrid analysis or synthetic genetic arrays (see Figure
1
). Different views may exist on why this should be, for example in regard to levels and sources of false positives and false negatives in high-throughput datasets [
8
], but even the most optimistic assessment suggests that tens of thousands of interactions remain to be discovered in yeast. This in turn conveys the enormous scale of the problem of finding similar networks in higher organisms such as worm, mouse or human.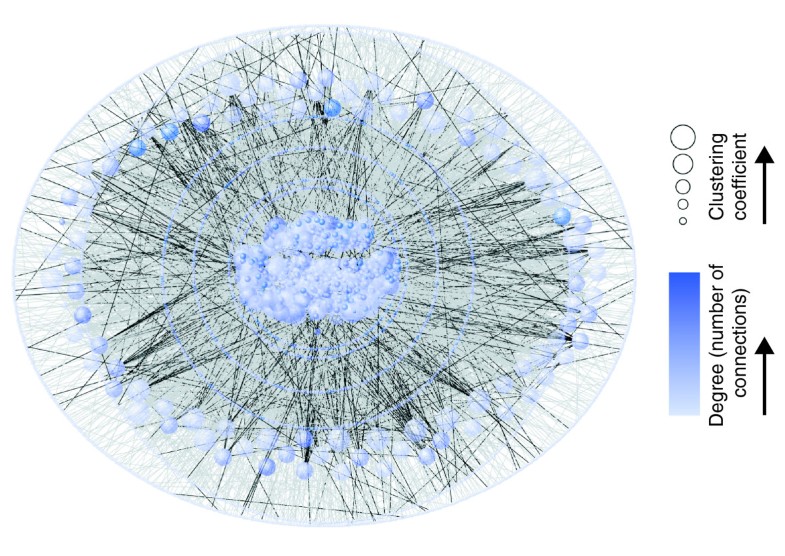 (1)
Program in Bioinformatics, Boston University, 24 Cummington Street, Boston, MA 02215, USA
© BioMed Central Ltd 2006