Research article
Open Access
A functional genomic analysis of cell morphology using RNA interference
Journal of Biology
2003
2:27
Received: 17 April 2003
Accepted: 12 August 2003
Published: 1 October 2003
Abstract
Background
The diversity of metazoan cell shapes is influenced by the dynamic cytoskeletal network. With the advent of RNA-interference (RNAi) technology, it is now possible to screen systematically for genes controlling specific cell-biological processes, including those required to generate distinct morphologies.
Results
We adapted existing RNAi technology in Drosophila cell culture for use in high-throughput screens to enable a comprehensive genetic dissection of cell morphogenesis. To identify genes responsible for the characteristic shape of two morphologically distinct cell lines, we performed RNAi screens in each line with a set of double-stranded RNAs (dsRNAs) targeting 994 predicted cell shape regulators. Using automated fluorescence microscopy to visualize actin filaments, microtubules and DNA, we detected morphological phenotypes for 160 genes, one-third of which have not been previously characterized in vivo. Genes with similar phenotypes corresponded to known components of pathways controlling cytoskeletal organization and cell shape, leading us to propose similar functions for previously uncharacterized genes. Furthermore, we were able to uncover genes acting within a specific pathway using a co-RNAi screen to identify dsRNA suppressors of a cell shape change induced by Pten dsRNA.
Conclusions
Using RNAi, we identified genes that influence cytoskeletal organization and morphology in two distinct cell types. Some genes exhibited similar RNAi phenotypes in both cell types, while others appeared to have cell-type-specific functions, in part reflecting the different mechanisms used to generate a round or a flat cell morphology.
Keywords
Actin FilamentAdditional Data FileHemocyteCytoskeletal OrganizationDrosophila Cell
Background
The morphological diversity of animal cells results largely from differences in the lineage-specific expression and control of cytoskeletal regulators. Cells in culture have been widely used to characterize morphogenetic events, for example the dynamics and organization of filamentous actin and microtubules in adherent and motile cells. Few metazoan cell systems, however, permit the use of genetic analysis to identify the complement of genes contributing to the generation of cell shape.
RNA interference (RNAi) has revolutionized the functional analysis of genes identified by genomic sequencing [1–3]. Several factors make RNAi in Drosophila cell cultures an excellent approach for such functional genomic analysis of animal cell form. The availability of well-annotated Drosophila genomic sequence simplifies the design of gene-specific double-stranded RNAs (dsRNAs) [4]. Furthermore, the Drosophila genome encodes homologs of over 60% of human disease genes [5] and lacks some of the genetic redundancy observed in vertebrates. RNAi in Drosophila cells is efficient, reducing or eliminating target-gene expression to elicit partial to complete loss-of-function phenotypes upon the simple addition of dsRNA to the culture medium [6]. Finally, the well-established genetic techniques for Drosophila allow comparisons to be made between loss-of-function cell-culture phenotypes and those observed in tissues of corresponding mutant flies.
In order to develop a cell-based approach for the study of gene functions involved in morphogenesis, we developed a high-throughput RNAi screening methodology in
Drosophila
cell cultures that is applicable to the study of a wide range of cellular behaviors (Figure
1a
). This approach involves the following steps: first, the design and synthesis of a gene-specific dsRNA library; second, incubation of
Drosophila
cells with the dsRNAs in 384-well assay plates (in serum-free medium or with transfection reagents, depending on the cell line); and third, optional induction of a cell behavior, followed by detection of luminescent or fluorescent signals using a plate reader or an automated microscope.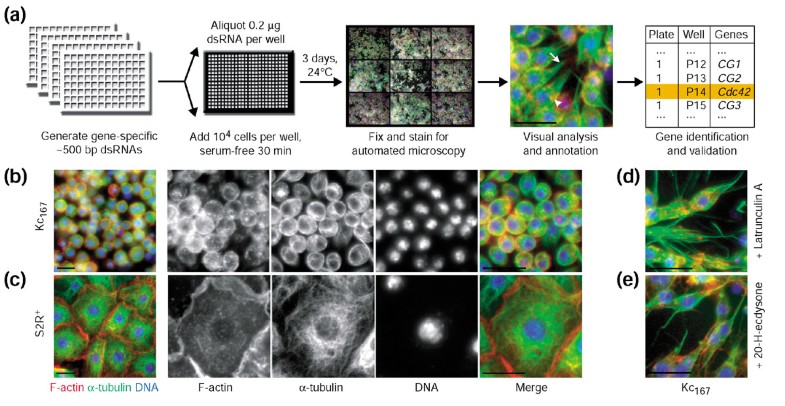 Here, we describe the establishment of an RNAi functional approach applied to the study of cell morphology. Using images acquired by automated microscopy, we visualized phenotypic changes resulting from reverse-functional analysis by the treatment of Drosophila cells in culture with gene-specific dsRNAs. We were able to observe and characterize a wide range of phenotypes affecting cytoskeletal organization and cell shape, and from these, to identify sets of genes required for distinct round versus flat cell morphologies.
Conclusions
Despite a limited knowledge of the molecular mechanisms used to maintain the morphology of Drosophila cells in culture, we have identified over 100 genes with visible loss-of-function phenotypes that affected specific aspects of metazoan cytoskeletal organization, cell-cycle progression, cytokinesis and cell shape. While both Kc167 and S2R+ cells appear to use a similar set of genes to regulate actin filaments at the cell cortex and for cytokinesis, S2R+ cells spread on the substrate using integrin-mediated adhesion, and Kc167 cells require proper control of the PI 3-kinase pathway to maintain their round shape. Furthermore, the functional consequences of a reduction in the expression of an individual gene did not correlate with its level of expression in the two cell types. It is more likely that gene function is determined by the network of functional interactions of a large number of proteins. Thus, our analysis has generated a genetic description of two cell types that reveals potential mechanisms through which their contrasting cell shapes might be generated. The same technology can be easily adapted using modified cell lines or conditions to a wide variety of cell-based studies and on a greater genomic scale. Comparisons between diverse RNAi screens will be invaluable in illuminating the complexities in the ways in which sets of genes can functionally interact to generate different cell behaviors. Significantly, RNAi screens bring systematic reverse genetics to cell culture, facilitating comprehensive functional analyses of cell-biological processes.
Materials and methods
Selection of gene targets and primer pairs
The set of genes represented in the RNAi library was chosen to include the vast majority of those encoding predicted signaling components and cytoskeletal regulators. Genes were selected on the basis of a combination of predictions using annotations in the FlyBase [12] and Berkeley Drosophila Genome Project (BDGP) databases [29] and by BLAST searches for orthologs of known genes with functional domains via NCBI/GenBank [30]. The selected genes were categorized according to one of the following predicted protein functions or domains: adhesion molecules, adenylate and guanylate cyclases, cytoskeletal proteins and binding proteins (such as proteins with WH and FERM domains), G proteins, GTPase-activating proteins (GAPs), GEFs, GTPases, kinases, lipid-associated proteins (such as phospholipases or proteins containing PH and PX domains), miscellaneous proteins (such as transcription factors, PI phosphotyrosine-binding domains and cell-cycle regulators), motors (such as dynein, kinesins and myosins), PDZ-domain-containing proteins, phosphatases, proteins involved in proteolysis (such as ubiquitin-conjugating enzymes and ligases), proteins containing SH2 or SH3 domains and vesicle-transport-associated proteins (such as SNAREs, SNAPs and dynamins). A complete list is presented in Additional data file 1.
Primer sequences were predicted using genomic and annotation data from the BDGP Release 1 [4] with the Primer3 software [31]. Primers were preferentially selected to span predicted exonic sequences if confirmed by the existence of expressed sequence tag (EST) or protein homology data. Electronic PCR [32] was used to select amplification products from genomic sequence between 200 and 1,800 bp in length and possessing < 21 bp of exact match with any other predicted or confirmed transcript sequence. A smaller PCR product size was selected if the genomic sequence corresponded to > 500 bp coding sequence. PCR primers could only be predicted within the most proximal half of the intergenic sequence of each gene.
Generation of dsRNA
OregonR genomic DNA was PCR-amplified using Taq (PerkinElmer, Foster City, USA) with 5 μM each primer in 96-well plates (Tetrad from MJ Research Inc., Waltham, USA; 92°C for 1 min, 34 cycles of 92°C for 20 sec, 54°C for 40 sec, 72°C for 4 min, then 72°C for 3 min and held at 4°C), ethanol precipitated, washed, vacuum dried and resuspended in 7 μl DEPC-treated 100 mM Tris-HCl, 0.1 mM EDTA. Separate T3 and T7 in vitro transcription reactions were conducted (T3 and T7 MEGAscript; Ambion, Austin, USA) using 1.5 μl PCR product per well, incubated at 37°C for 4.5 h, and diluted with 47 μl of RNase-free water. T3 (50 μl) and T7 (50 μl) reaction mixes were combined, purified using RNeasy 96 Kits and a QIAvac 96 vacuum manifold (QIAGEN, Valencia, USA), soaked twice for 2 min and eluted in 80 μl RNase-free water. To anneal T3 and T7 single-strand RNAs, 50 μl purified RNA was mixed with 10 μl 6× buffer (40 mM KPO4 pH 7.5, 6 mM K-citrate pH 7.5, 4% PEG 6000) and heated in a PCR block at 68°C for 10 min and 37°C for 30 min. Purified dsRNA and remaining non-annealed mixes were stored in 96-well plates at -70°C. For screens, an average of 0.3 μg dsRNA in 3 μl was transferred from stock plates to 384-well black-sided, tissue-culture-treated optical bottom-assay plates (Corning, Acton, USA) using a multichannel pipette or a CyBio robot (CyBio US Inc., Woburn, USA).
Cell cultures
Kc167 cells and S2R+ cells were grown in Schneider's medium (Invitrogen, Carlsbad, USA) with 10% heat-inactivated fetal bovine serum (JRH Biosciences, Fenexa, USA) and penicillin-streptomycin (Sigma, St Louis, USA) at 24°C in treated culture flasks (Falcon from BD Biosciences, Bedford, USA). S2R+ cells were removed from culture flasks using Trypsin-EDTA (Invitrogen).
RNAi and cell staining
RNAi was performed as described [6]. Briefly, 1.2 × 104 cells in 10 μl serum-free Schneider's medium were added to dsRNAs in 384-well assay plates using a Multidrop384 liquid dispenser (Thermo Labsystems, Franklin, USA), centrifuged at 1,200 rpm for 1 min, then incubated at room temperature for 30 min before adding 30 μl more medium with serum by MultiDrop. Cells were grown for 3 days at 24°C. In the RNAi-modifier screen, 0.1 μg Pten dsRNA in 3 μl was added to each assay-well before plating cells. Cells were processed using the MultiDrop dispenser and a multi-channel manifold (Drummond Scientific, Broomall, USA). Cells were fixed for 10 min in 4% formaldehyde (Polyscience, Niles, USA) in phosphate-buffered saline (PBS), washed twice in PBS with 0.1% Triton-X-100 (PBST), stained overnight at 4°C with FITC-conjugated anti-tubulin (DM1A; Sigma) and TRITC-phalloidin (Sigma) in PBST with 3% bovine serum albumin, stained for 10 min in PBS with 4',6-diamidino-2-phenylindole, dihydrochloride (DAPI; Sigma) and washed in PBS.
Autoscope image acquisition
Fluorescent images of cells in 384-well plates were acquired using an automated Nikon TE300 microscope with a 20× objective and HTS MetaMorph software (Universal Imaging, Downington, USA) running an automated Mac5000-driven stage, filter wheel and shutter (Ludl Electronic Products, Hawthorne, USA), an automated Pifoc focusing motor (Piezo Systems Inc., Cambridge, USA) and an Orca-ER cooled-coupled device camera (Hamamatsu Corporation USA, Bridgewater, USA). Images were also acquired using a similar automated microscope with a Prior stage and controller (instrument kindly shared by the Institute for Chemistry and Cell Biology, Harvard Medical School). Automated focusing was performed on DAPI-stained DNA. Images from UV, TRITC, and FITC channels were then collected within the same plane using preset exposures and a binning of 2 (640 w × 512 h pixels). Images from two different sites within each well were collected, representing around 12% of the total area. Multichannel images were combined as an RGB overlay within a stack of images for each plate.
Image annotation
Images from each channel and combined RGB images were visually scored independently by two researchers (B.B. and A.K.). Annotations assigned to each of the different sites imaged within every well were exported from MetaMorph into Excel spreadsheets. Phenotypes observed in multiple fields of replicate screens by independent observers were considered for further analysis. All visible phenotypes observed for an estimated majority of imaged cells per dsRNA treatment were recorded. Phenotypes were classified into one of seven major categories denoting visible defects in actin filaments, microtubules, DNA, cell shape, cell size, cell number and cell viability. Some descriptions were interdependent and therefore occasionally redundant: for example, cell shape was determined by an overall assessment of the actin and microtubule organization. Further subcategories were used to describe specific morphological attributes, although potentially subtle differences were still distinguishable between specific dsRNA phenotypes grouped within the same category. Specific categories included the following.
F-actin
(a) Variable or undefined; (b) reduced levels or non-cortical (F-actin not apparent at the cell cortex, with diffuse or low levels of staining); (c) fibers (the appearance of spikes of F-actin away from the cortex, within the cell body); (d) puncta or dots (smaller and bigger accumulations within the cytoplasm, respectively); (e) accumulated (elevated levels and/or expanded at the cortex); (f) polarized (asymmetric distribution of actin at the cortex, usually fewer but larger accumulations than puncta or dots); (g) processes or ruffles (spiky or broad actin-rich protrusions, reminiscent of filopodia and lamellipodia).
Microtubules
(a) Variable or undefined; (b) reduced levels; (c) dots (as described for F-actin); (d) aberrant or frequent mitotic spindles (unusually formed or sized spindles and/or an increased frequency of spindles); (e) accumulated; (f) bipolar extensions or spikes (elongated microtubule bundles emanating as one to two opposing radial cell protrusions); (g) processes (multiple radial protrusions of microtubule bundles); (h) disorganized, uniform (a microtubule network throughout the cytoplasm, no longer with stronger staining of the perinuclear array).
DNA
(a) Variable or undefined; (b) small or condensed; (c) big or diffuse (abnormal size was estimated); (d) multinucleated cells.
Cell shape
(a) Variable or undefined; (b) flat; (c) retracted (pertains to S2R+ cells that remained flat but less well or less evenly spread, based on the shape and length of the cell edge and an estimate of the spreading area); (d) processes, spiky or stretchy (a description of the cell edge, in combination with F-actin and microtubule organization); (e) bipolar (pertains to Kc167 cells with a polarized axis, with varying degrees of lengthening ranging from lemon shapes to elongated spindle shapes); (f) round or nonadherent (pertains to S2R+ cells that were no longer flat).
Cell size
(a) Variable; (b) small; (c) big (based on estimated size).
Cell number
(a) Variable; (b) sparse (having an estimated less than half of the normal cell confluence of approximately 1,000 cells per field).
Cell viability
(a) Death (fewer than an estimated 100 cells per field).
Molecular assays
Cells were plated at 106 cells per ml in 6-well plates with or without 15 μg dsRNA (results shown are either with gfp, mys, if, Rap1 or talin), as described above. After 3 days, cells in duplicate wells were processed for either protein or mRNA analyses. For protein detection on western blots, cells were washed, collected, resuspended in 75 μl lysis buffer (50 mM Tris, pH 7.5; 150 mM NaCl; 1 mM EDTA; 1% NP40; 0.5% DOC; 10% SDS; 10 mM NaF; 1 mM NaOV; protease inhibitors), incubated on ice for 15 min and spun at 4°C for 10 min before loading 10–12 μl supernatant with 2-mercaptoethanol to run on a 10% Tris-HCl polyacrylamide electrophoretic gel (BioRad, Hercules, USA). Semi-dry transfer to nitrocellulose membrane was probed with rabbit anti-Myospheroid (185E; gift of R. Hynes), mouse anti-Enabled (gift of D. Van Vactor) and mouse anti-α-tubulin (DM1A; Sigma) and detected with HRP anti-rabbit or anti-mouse (Jackson Labs, Bar Harbor, USA) with ECL Western Blotting Analysis System (Amersham Bioscience Corp., Piscataway, USA).
Alternatively, cells were lysed in 1 ml TRIzol (Invitrogen) and processed for total RNA resuspensions. Quantitated RNA samples (Bioanalyzer; Agilent Technologies, Palo Alto, USA) were normalized for reverse transcription reactions with SuperScript III (Invitrogen), then diluted cDNA was used for quantitative PCR (LightCycler FastStart DNA Master SYBR Green I, Roche Applied Science, Indianapolis, USA). Analyzed products were assayed in triplicates in multiple experiments. Individual samples were averaged, then normalized according to an adjustment factor, determined by the difference between cell types in the cross-point or cycle measurement for the rp49-positive control product. Relative levels of expression in the two cell types were presented as the difference between the averaged and adjusted cross-points (with one cycle difference approximately equivalent to a two-fold difference in expression level).
Declarations
Acknowledgements
We thank S. Armknecht for technical help, members of the Institute for Chemistry and Cell Biology and the Mitchison laboratory (Harvard Medical School) for generous use of equipment and technical help, FlyBase for gene information, D. Traver and F. Schöck for helpful comments on the manuscript, and Howard Hughes Medical Institute (N.P. and B.B.), Jane Coffin Child's Memorial Fund (A.A.K.), and the UK Medical Research Council (A.C. and M.R.J.) for financial support.
Authors' Affiliations
(1)
Department of Genetics, Harvard Medical School, Howard Hughes Medical Institute, Boston, USA
(2)
Genome Sciences Centre, British Columbia Cancer Research Centre, Vancouver, Canada
(3)
MRC Laboratory of Molecular Biology, Cambridge, UK
(4)
Cenix BioScience GmbH, Dresden, Germany
(5)
Ludwig Institute for Cancer Research, University College London, UK
Copyright
© Kiger et al., licensee BioMed Central Ltd. This is an Open Access article: verbatim copying and redistribution of this article are permitted in all media for any purpose, provided this notice is preserved along with the article's original URL. 2003